What's the most important thing in a Hurricane kayak? Answer ― It's you.
Our latest Brand Spotlight is on a relatively new brand for us, although the company has been around since 1998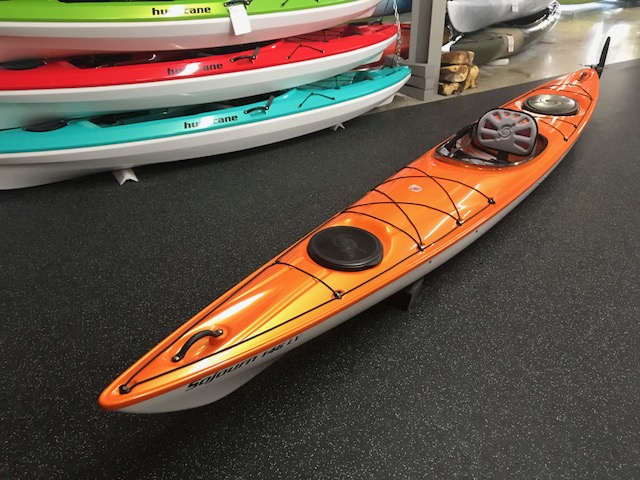 Hurricane Kayaks from Warsaw, NC has been making lightweight, thermoformed kayaks for almost two decades.
They manufacture a complete line of recreational, day touring, touring, sit-on-top and fishing kayaks from Trylon, a type of ABS plastic that is stiffer and lighter than polyethylene plastic, and more durable and less expensive than composite kayaks – the best of both worlds, and more environmentally-friendly than other construction methods, too!
We happen to think that their approach to the paddlesports industry and their philosophies as a company match ours as well.
The priority should be on creating an extraordinary experience for the customer, not making and selling boats that maximize the bottom line.
It is possible, and Hurricane Kayaks is one of those rare companies that proves it!
A Conversation That Turned Into A Company
It's true – the best ideas have simple beginnings – and the idea for Hurricane Kayaks started, quite simply, with an informal conversation between a small group of paddling veterans in 1998. The more they talked that evening, the more they realized that the big boys in the kayak industry had lost sight of somebody pretty important . . . the person holding the paddle. They were taking the fun out of getting on the water. So they decided to do something about it.
They set a new goal – to consistently give their customers a superior paddling experience – and they did it by creating a new kind of kayak, one that was thermoformed, not roto-molded. By thermoforming their boats, they're able to create innovative designs with highly engineered resins – boats that perform like composites but at a fraction of the cost. Hurricane Kayaks are lighter, stiffer, more attractive, and – best of all – they're fun to paddle.
"Our lives intertwine with kayaking every single day. We think we have the best jobs in the world. We're able to take something we're passionate about and pass it on. If you don't have fun with our boats, we haven't done our job, but since 1998, the fun just keeps coming . . . and it's called a Hurricane."
NEW FOR 2015, Hurricane Kayaks introduced the Sojourn series of Day Touring Kayaks in 3 lengths, available with or without Smart-Track rudder system.
In addition to the Sojourn series, we also decided to bring in the Tracer 165 Performance Touring kayak, and the Skimmer 140 Angler fishing kayak this year.
If you are in the market for a sit-on-top fishing kayak, and you've been looking at the 70+ pound weight of most of the plastic kayaks out there, you owe it to yourself to check out the amazing 55 lb. Skimmer 140 – that's a FOURTEEN FOOT fishing kayak for well under 60 pounds! We're not joking – AND, it's stunning!! It's not just unbelievably lightweight, it's totally outfitted for even the most demanding kayak angler – anchor, anchor trolley, Yak Attack rails, Yak Attack Zooka Tube with ball mount, plus the option to have it with or without a factory installed rudder system! WOW!
When Hurricane Kayaks claims to be the leader in lightweight, they're not kidding. How's this for an impressive set of stats?
The Sojourn Series is available in 3 sizes:
Sojourn 126 weighs 43 lbs.
Sojourn 135 weighs 45 lbs.
Sojourn 146 weighs 47 lbs.
Yes, you read that right! Pick your size, all 3 are under 50 lbs. The Sojourn 126 is particularly well-suited to smaller paddlers, at a size and weight that you can actually lift on and off the car with EASE! These are some of the nicest day touring kayaks we've ever seen or paddled, and THAT says a lot!
Still not convinced? Come on in and see these incredible kayaks for yourself!!
From the 2015 Hurricane Kayaks Catalogue:
"Perfect Storm. Once upon a time, we brought a lot of good things together under one roof ― a century's worth of kayak experience, a hightech material, innovative manufacturing techniques, and a desire to make fun on the water a priority ― and out of this perfect storm came a Hurricane. Hurricane kayaks are made differently. We use Trylon and a unique thermo-molding process to produce kayaks that perform and look like composites at a fraction of the cost. Now that the Hurricanes have arrived, the days of paying big bucks for a beautiful high performance kayak are over. In addition to being light on your wallet, Hurricane kayaks are just plain light. Our boats weigh 10-15 pounds less than comparable boats in the same category, and a lighter boat means less hassle getting it off the racks and to the water, more efficient paddling, and more fun. It's pretty simple, your job is to have a good time paddling a Hurricane, while ours is to make sure that happens.We discovered it the day our first boat came off the line ― put all the right things together in one place, you get a perfect storm, and you can call this one a Hurricane."
Some of the Advantages of Trylon:
Lightweight. Using Trylon means our boats weigh 10-15 pounds less than comparable kayaks, Which translates into less time wrestling with your boat and more time paddling it. That's especially good news for smaller paddlers who don't need a weight belt to get a Hurricane from their car to the water's edge.
Rigid. Trylon gives Hurricane kayaks rigidity, and rigidity means less flex, while less flex means more efficiency when moving through the water.
No Warping. Because of Trylon, a Hurricane hull retains its shape without warping or oil canning.
Less Friction. Trylon reduces water surface friction on the hull and increases glide, which means when you take a stroke with your paddle, you will break into a smile.
Very Little Maintenance. You don't need a degree in industrial engineering to keep a Hurricane hull looking good. In most cases, if you need a repair, you can make it easily using adhesives available at the local hardware store.
Gorgeous. A Hurricane will always look good, as it has a high-luster appearance that won't fade or turn brittle in the sun . . . and, by mere association, you'll look good paddling it.