You don't have to be heading out to the open sea in your kayak to need to understand your responsibilities under the law. Ignorance is not an alibi, and anyone who sells boats of any kind should educate their customers about the additional gear that they MUST buy when purchasing a kayak or any other watercraft. Here's the scenario: You're out kayaking on Lake Ontario, enjoying a relaxing day paddling along the shoreline. As you and your partner chat about the weather, an OPP patrol boat approaches and the officer asks you to produce your mandatory safety gear…
Do you know what you need, where it is, and how it works? The fine in Ontario for not carrying the appropriate safety items has gone up to a maximum of $750.00, depending on the specifics! The regulations are set by Transport Canada and enforced by the Canadian Coast Guard and provincial police marine units. The laws are different in different countries (but they are IDENTICAL across Canada), and you should be aware of the regulations specific to the places you are paddling. It's important to note that while the safety gear listed below is mandated by government regulations, this gear can and does save multiple lives every year. It should be regarded as important and necessary to your safe and enjoyable paddling experience. It may be tempting to cut corners and purchase the bare minimum and least expensive "legal" gear you can find, but this can be a disservice to yourself, your families and the rescue services that may have to come looking for you one day. 97% of all marine fatalities involve victims who are not wearing a PFD. This is a fact. Your PFD floats, you do not. Buy one that fi ts properly and wear it! Here at Grand River Kayak, we always paddle with more than the bare minimum, and there are other rescue and safety devices not on this list that we have found to be invaluable; paddle floats, rescue stirrups and towing devices. While there are no regulations regarding helmets, they should be considered mandatory in any rough water (whitewater, surf, rock gardening) situations. As kayakers, guides and instructors with more than 15 years' experience, we can help you select the most appropriate safety gear for your needs, intended paddling conditions and budget. Talk to us about the options available. We have attempted to interpret the Coast Guard Regulations as they apply to human-powered personal watercraft. Original text taken from the Transport Canada Sea Kayak Safety Guide. For all kayaks, canoes and SUP's* under 18 feet in length :
1. Coast Guard approved PFD
2. Paddle or appropriate propulsion device
3. Sound signalling device
4. Bailing Device
5. 15m (50 feet) of buoyant heaving line
6. A waterproof white light *(in low light or low visibility conditions)
For kayaks, canoes and SUP's* over 18 feet : All of the above requirements PLUS :
7. Six (6) Canadian-approved flares of Type A (Rocket Parachute), B (Multi-Star) or C (Hand) Note: Flares are not required for a pleasure craft that is operating on a river, canal or lake in which it can never be more than one (1) nautical mile (1.85 km) from shore
8. One waterproof flashlight
Interpretations : 1. A personal flotation device or lifejacket carried on board a human-powered pleasure craft operated in whitewater must be inherently buoyant. This would seem to indicate that self-inflating vests are not permitted for kayaks, canoes, or SUP's* used in whitewater conditions.
2. A bailer or manual bilge pump is not required for a pleasure craft that cannot hold enough water to make it capsize or a pleasure craft that has watertight compartments that are sealed and not readily accessible. Sit-on-Top kayaks that cannot become swamped, and SUP's* would be exempt from carrying a bailing device.
3. Navigation lights are only required if the pleasure craft is operated after sunset, before sunrise, or in periods of restricted visibility (fog, falling snow, etc.). For a human-powered vessel, this requirement can be met with a watertight flashlight. Keep in mind that the point of a light is to make sure YOU are visible to OTHERS in low light or low visibility conditions, not the other way around. The downside to a flashlight is that it puts the onus on YOU to turn it on and signal your presence when you feel it is necessary. This involves putting your paddle down, etc. We highly recommend a combination of head lamp and a mounted marker light that is turned on and left on after dark. A lightstick or small LED light mounted to your PFD is also an excellent idea. Remember, YOU benefit the most from being visible in the dark.
4. Pleasure craft less than 12m (39') in length need a sound-signalling device if they are not fitted with a sound-signalling appliance. The sound-signalling device can be a pealess whistle, compressed gas horn or an electric horn. " We recommend that you wear a whistle on your PFD. It's quick, accessible, and doesn't require instructions to make it work!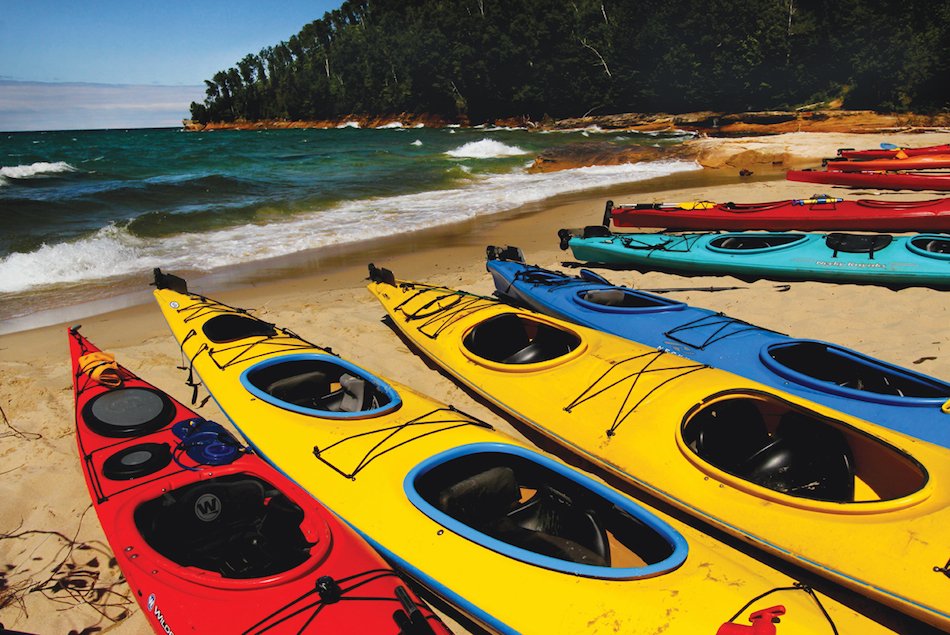 You can buy simple "Marine Safety Kits" which generally consist of 50 feet of rope, a whistle, and a waterproof flashlight, contained in a plastic bucket of some form. The bucket IS your bailing device, and might be practical for canoes, but the smaller cockpit opening on many kayaks makes bailing with a bucket tough work. Feel free to ask us, and we'll be happy to compare the quality and practicality of safety gear for your specific boat and paddling plans. *SUP's (Stand Up Paddleboards) : the regulations have not been formally set for these relatively new (in Canada, at least) watercraft. Until formal regulations are released, we are treating SUP's the same as kayaks. Probably SUP's will not require quite as much gear, and there is a movement out there to consider the board itself as an acceptable form of floatation provided the paddler is wearing a properly fitted leash, but this hasn't been decided yet.
Don't wait until you're in the water to find out what gear you need!
Questions Regarding Pleasure Craft Licenses Do I need proof of competency to operate a non-powered pleasure craft?No. The "Competency of Operators of Pleasure Craft Regulations" only apply to pleasure craft fitted with a motor.
Do I need proof of competency to paddle a pleasure craft fitted with a motor and the motor is turned off?Yes. Do I need proof of competency to operate a sailboat? You need proof of competency if the sailboat is fitted with an auxiliary motor, even when under sail.
Good Advice from Transport Canada : Make sure you are seen on the water. Even in bright, calm conditions a kayak can be nearly invisible. It is especially difficult for power-driven vessel and large vessel operators riding high in the water to see kayaks. Choose bright colours such as red, yellow or orange for your flotation device and kayak. Also, remember to keep signalling devices within hand's reach in case of emergency.
Sea kayakers should be aware of their environment (water temperatures, tides, currents, wind and maritime traffic).