From Vancouver Island.com:
"The rugged and remote Esperanza Inlet and Nuchatlitz Inlet region on the west coast of Vancouver Island is rich in native culture and history, being the traditional territory of the Nuu-chah-nulth First Nation, who inhabited these lands for thousands of years before the arrival of the Spanish in 1774 and Captain James Cook in 1778. Nuchatlitz Provincial Park on Nootka Island protects a number of archaeological sites, evidence that the area has been inhabited for millennia by First Nations
people drawn to the region by the abundance of natural resources. These sites include ancient burial sites on and around Nootka Island, located in caves just off the beach.
These inlets, including the finger inlets that branch off from them (Port Elize, Espinosa Inlet, Zeballos Inlet) were gouged out by glaciers during the last ice age, and are extremely remote and sparsely populated. This isolation is enhanced by the stunning scenery, attracting anglers, kayakers, divers, campers and hikers to the wilderness area.This coastline is known for it's ocean swells as the Pacific rolls in all the way from Japan, superb outer reef systems, and long expanses of pristine and deserted beaches.
Marine wildlife in the area includes killer whales (Orca), migrating gray whales, seals, porpoises and sea otters. Land mammals include black bear, cougar and deer."
OUR BASE CAMP
We enjoy small waves rolling in from the Pacific to our beach head full of white sand
Looking towards the Pacific we see the sunset in the west.
We maintain a simple and workable toilet system tent and then a separate shower tent, with heated water….
Yes, a Toilet and Shower!!!
We have a selection of the latest gear for clients.
We will supply a recommended gear list for all customers upon receipt of deposit.
We use Dutch Ovens for all our meals creating main courses and deserts daily.
Please do not expect to loose weight while on our tours – folks have tried to no avail!!
What's Included?
9 days Thursday to following Friday
Two nights hotel in Gold River
All meals on MV Uchuck and during trip
Tents, sleeping pads, camp gear
Shower tent
Toilet tent
Kayaks, and all required gear to safely paddle.
Paddling instruction upon request.
MV Uchuck fees included
OUR RIDE, THE MV UCHUCK III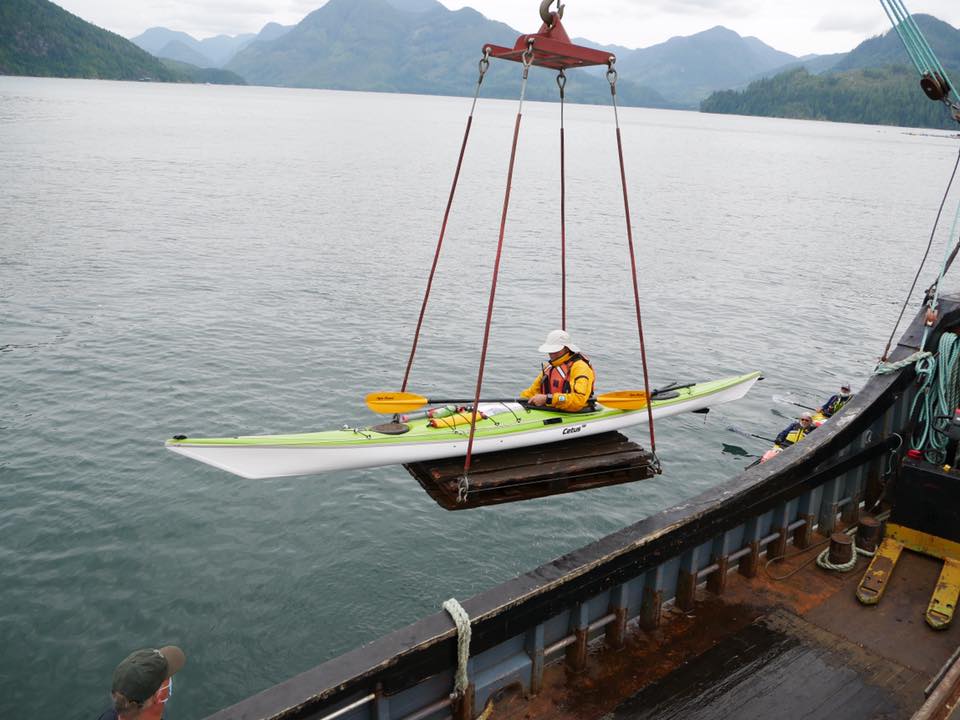 MV Uchuck III, a 149 foot long converted WWII minesweeper, delivers us to the destination and offloads us on a pallet sling in our kayaks directly onto the water, which is nothing short of amazing. Our reliable and official transport vehicle for our trips. Enjoy home cooked meals and beverages along the way to our departing location.The MV Uchuck sails the Fjords of Nootka Island and the west coast of Vancouver Island delivering mail, supplies and clients to wilderness communities along the way.